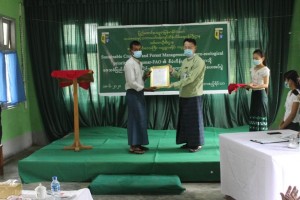 FAO/GEF has supported communities residing in three of Myanmar's priority agroecosystems to gain access and obtain a community forest certificate, offering villagers living in those areas with possibilities to increase their income through the sales of forest and non-timber forest products while restoring, enhancing and preserving local forests.  This also helps combat climate change by adopting sustainable forest management and sustainable land management policies and practices.
 Farmers are showing satisfaction in holding their certificates recently issued to 495 villagers in 20 communities during local ceremonies in the FAO/ GEF project's five pilot townships.  Those villagers live in areas where local forests have become severely degraded.  Without support and government registration certificates many people faced hurdles in earning a living from their forest land.  The certificates grant local communities commercial rights to harvest trees, thereby encouraging them to sustainably manage their plantations. The certificates also allow them to forge partnerships with sawmills and other buyers through a community forest enterprise, paving the way for communities to increase their income.  Farmers at these ceremonies explained what holding of those certificates could impact on their livelihoods and their local forests.
"I hope the certificate will make it easier for us to sell trees and forest products to gain a better price, and to improve my livelihood in the future," says Maung Maung Soe, a member of the community who participated in the ceremony with local forestry department officer in Central Dry Zone
The FAO SLM project has been helping villagers in 20 communities to obtain these documents.  This includes helping them meet official preconditions such as forming Community Forest User Groups (CFUGs) and Community Forestry Management Committees (CFMCs), surveying and mapping trees and land, and writing a 30 years community forest management plan. Planting, thinning, and other farming techniques are also being taught by the Forestry Department with support of extensionists from the Department of Agriculture.  In some cases, farmer field schools can also allow more efficient management of the land. Community forest management plans encourage women to become more involved in forest management and in decision making.
The FAO SLM project works toward improving livelihoods and restoring and preserving local forests by issuing CF certificates in some 50 other communities inside and outside the pilot townships by end the of 2021.  The total CF area and other improved forest management plans developed by the project should reach60,000 ha by the end of 2021. Villagers used to often cut down trees when they needed money. With new skills, knowledge, and security, however, they can manage plantations for the future.  For example, they can let some trees grow large enough to reach their full potential value, a process that takes years but can help to combat climate change because larger trees store more carbon.
Supporting community forestry in Myanmar also means recognizing that the people who depend on local forests are best positioned to look after them. Approximately 70 percent of the Myanmar population lives in rural areas and relies on forest resources for their income.
The Myanmar government in collaboration with the United Nations Programme on Reducing Emissions from Deforestation and Forest Degradation (UN-REDD) also wants to address the root cause of deforestation and degradation, which is poverty.  The government has an ambitious plan to place 900,000 ha of forest land under CF by 2030.  Yet, 250,000 ha of CF have been already certified, most of which are on land under the management of the Forest Department.   The FAO SLM will help reach this target if there is better recognition and acceptance of the establishment of CF outside of land under the management of the Forest Department by relevant ministries.